---
February 24, 2021
SEEKING CANDIDATES FOR CITY COUNCIL
Interested individuals residing with the city limits of Wilson Creek are encouraged to submit a letter of interest. Letters may be submitted to Town Hall:
in person or in secure drop box at 254 Railroad Street,
via mail to PO Box 162,
via email at clerk@wilsoncreekwa.com,
– or –
fax to 844.473.1909
The selected candidate, appointed by council,
will fill Position #3 through the remainder of the current term, which ends December 31, 2021.
Council meetings are held on the second Thursday of each month at 6:00 pm. Councilmembers are expected to regularly check a Town-assigned email address, and will need to complete an online Open Public Meetings Act training within the first 90 days of service.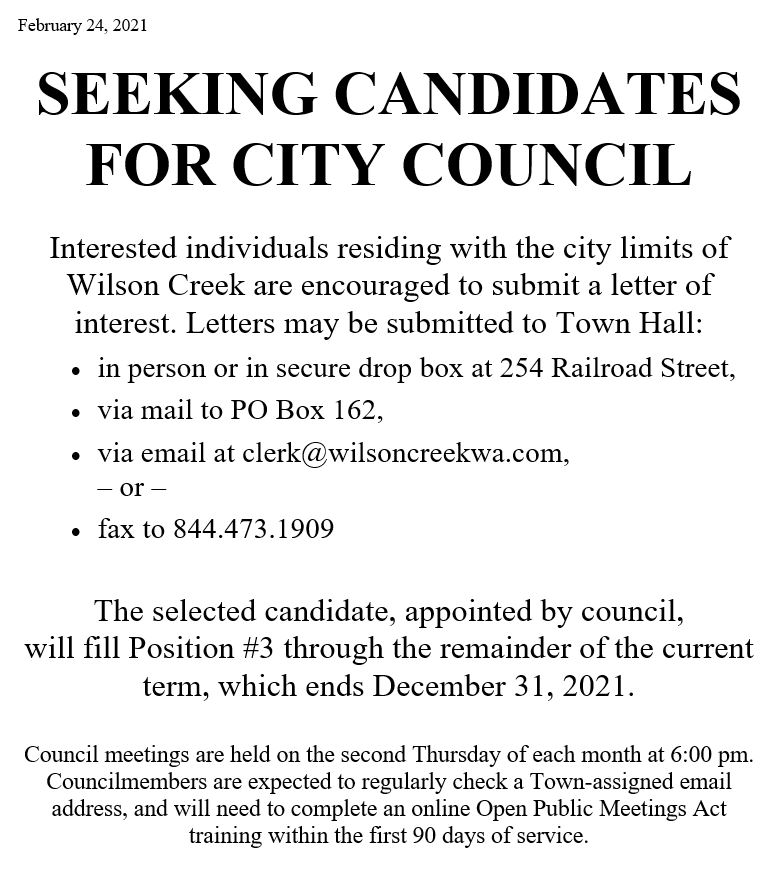 Regular business hours at Town Hall

:
Monday: 12:00 pm – 3:00 pm
Wednesday: 12:00 pm – 3:00 pm
Thursday: 12:00 pm – 3:00 pm
closed Tuesdays and Fridays
unless otherwise posted
---
The Town of Wilson Creek was officially incorporated on May 8, 1903. Visit here for more information about our history. Wilson Creek is located at 47°25′25″N 119°7′21″W. The area has a semi-arid climate, meaning we receive precipitation below potential evapotranspiration, but not as low as a desert climate. Cold semi-arid climates usually feature warm to hot dry summers and cold winters, usually seeing some snowfall during the winter with a tendency to feature major temperature swings between day and night.